An adolescent outpatient treatment facility may be what your child needs to overcome their issues.  As a parent, it can be difficult to raise a teenager.  That job becomes even more difficult when your teenager has a substance abuse issue, mental health concern, or eating disorder.  Many parents try to address these issues themselves by relying upon discipline to change their teenager's behavior.  The truth is that many of these issues are virtually impossible to overcome without professional assistance.  To provide your child and your family with the tools necessary to adapt to a healthy lifestyle, it is important to find the top California treatment center.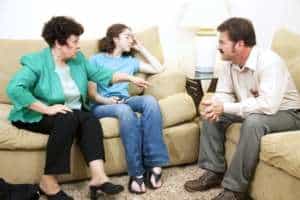 With two outpatient facilities in the Los Angeles area, the experts at Visions Adolescent Treatment Centers provide personalized adolescent outpatient treatment.  The team at Visions understands that adolescents have unique needs due to their ongoing physical, mental, and emotional development.  Each client's treatment plan is designed by taking into account their unique needs, their ongoing development, and their own goals and objectives for their treatment.  These things make Visions Adolescent Treatment Centers the top adolescent outpatient treatment centers in California.
In order to be eligible for treatment at Visions, individuals must:
Be between the ages of 13 and 18
Have a parent or guardian who will be involved in the treatment process
There are two programs for treatment in the outpatient centers:
1st Step Program
The 1st Step Program preserves the teen's individuality while giving them the tools needed to be successful after treatment.  This eight week program has sessions two to three times a week that include:
Individual therapy
Family therapy
Group therapy
Drug testing
The 1st Step Program can be the entry into a treatment program for someone who has never before received professional assistance.  The program may also be used to transition individuals who received inpatient treatment back into their everyday lives.  For both sets of individuals, the staff at Visions provides the support necessary to achieve success.
Intensive Outpatient Program
The intensive outpatient program is the next step in recovery, and provides a comprehensive approach to treatment in three phases over the course of one year:
Months one and two – Primary Care
Months three to six – Continuing Care
Months seven to twelve – Aftercare planning
In addition to the sessions provided by the 1st Step Program, sessions during the one year program include:
Multi-modal group sessions – These sessions are held weekly by the family therapist to allow families to address common issues in a comfortable and safe atmosphere.  Common topics include communication, boundaries, and handling conflict.  The sessions also serve as a support group to allow families to meet with others who are in a similar situation.
Parental support groups – These sessions are specifically designed to help parents who are dealing with an adolescent in treatment.  Topics such as managing stress, effective methods of discipline, and healthy modes of communication are commonly discussed.
The goal of the intensive program is to open the lines of communication within the family in order to heal the family unit as a whole and to give the family the tools necessary to recognize and address symptoms of dysfunction. This outpatient program also looks at the continuing support needs after leaving treatment and works to put clients in touch with the necessary community resources for ongoing improvement.  
Treatment Goals
Despite being tailored to the needs of each individual, there are several common goals for Visions' adolescent outpatient treatment programs:
Providing the motivation and encouragement to develop healthy habits and adopt a clean lifestyle
Equipping clients with better problem solving strategies
Identifying how the negative behavior impacted the life of the teen and the people around them
Assessing and addressing the psychological and psychiatric needs of each client
Establishment of coping mechanisms to deal with stressful situations without resulting to negative behavior
Involvement of the family in the recovery process
Contact a counselor today for additional information on the adolescent outpatient treatment facility at Visions Adolescent Treatment Centers.  Please click below to schedule your consultation or call us at 866-889-3665.