Drugs and alcohol have become easily accessible for adolescents leading to an increase in abuse. Visions Adolescent Treatment Centers were founded on the mission of providing cutting edge mental health, substance abuse and family treatment. Visions has been administering world class teen outpatient counseling since 2002. Majority of patients come from southern California while others come from big cities like NYC, Chicago as well as internationally.  
Adolescents must be approached differently due to their unique developmental issues, contradictions in their beliefs, and environment. Visions administers clinically-based treatment options for the adolescent and the family as a whole. Visions has two locations conveniently located in Los Angeles offering teen outpatient counseling. Children ages 13 to 18 years are accepted into the program. Session are held 4:00 to 9:00 pm Monday to Friday with Wednesday off allowing the adolescent to continue with normal daily activities before attending teen outpatient counseling and go home afterwards to a loving and supportive family.
Visions supports every adolescent to become involved in community-based resources including healthy peer groups. Visions' goals in teen outpatient counseling for drug and alcohol abuse:
Encourage and motivate the adolescent to achieve and sustain abstinence.
Assist the adolescent with identifying situations where drugs and alcohol were used to cope with life's problems.
Help the adolescent to develop new effective problem-solving strategies.
Assist the adolescent with recognizing and acknowledging the existence of destructive behaviors and the impact on family, friends and future.
Support the adolescent to use the 12-step philosophy and encourage participation in Narcotics Anonymous (NA), Alcoholics Anonymous (AA), and/or Cocaine Anonymous (CA).
Visions' highly skilled professionals use effective techniques and current modalities in teen outpatient counseling.
1st Step Program – introduction to the beginning of the treatment process and help families and teens reintegrate into everyday life after long term treatment
8 Weeks of Clinical Support
2 to 3 Nights Per Week Including:
1 Individual Session
Intensive Outpatient Program – the next step in care in which the staff is committed to opening communication up amongst the family.
1 Year of Clinical Support
Individual Sessions
Family Sessions
12-Step Program Implemented for Teens with Addictive Behaviors
Visions' original founding clinicians have stayed with the program while adding several dynamic team members for continued growth. A Medical Doctor conducts a history and physical to determine admission. The Psychiatric Director performs a psychiatric evaluation. A patient in teen outpatient counseling is assigned a personal Licensed Therapist and Counselor. All services are performed by trained personnel under the supervision of the Program Director.
Other specialties called upon as needed in teen outpatient counseling:
Psychologists
Registered Dietitian
Supervising Nurse
Art Therapists
Dialectical Behavior Therapy (DBT)
Program admission involves several assessments of each adolescent's condition and specific issues or needs, including medical, psychiatric, and psychosocial status.
Psychosocial Assessment – reviews medical history, family history, leisure and social functioning, developmental history, educational functioning, legal history, drug and alcohol history and any significant events that could hinder the treatment process.
Substance Abuse Assessment – examines psychoactive substance use, establishes a baseline and identifies areas of need. The assessment helps determine if there are any psychological issues that would prohibit complete recovery and if there are any risks for danger to self or others.
Psychiatric Assessment – performed by the Psychiatric Director ensures the initial psychiatric evaluation is properly performed and psychiatric services are provided as needed. Adolescents diagnosed with a Mental Health or Co-Occurring Diagnosis (mental health and substance abuse disorders) will be admitted to the program.
Treatment Planning – identifies issues to be addressed in the treatment program and the desired goals. The Counselor and patient review the treatment plan together to ensure that the goals and expectations are fully understood.
Substance Abuse issues affect the entire family. Many Visions therapy involves family participation. Studies show that teen outpatient counseling is only successful with the involvement of family members
Family Treatment – guides the family in understanding and participating in the teen outpatient counseling process.
Multi-Family Group – facilitated weekly by a Family Therapist to address issues common to all families such as communication, handling conflicts, and maintaining boundaries. The group also provides families with feedback and support from other family members who are experiencing similar difficulties.
Individual Family Sessions – addresses conflicts that the family may feel uncomfortable bringing up in group sessions.
Family Education – addresses roles, rules and interaction patterns commonly found in families. They discuss common issues parents bring into treatment when addressing their own family.
Discharge & Aftercare
The Discharge Plan addresses continuing care needs and provides recommendations and arrangements for support services.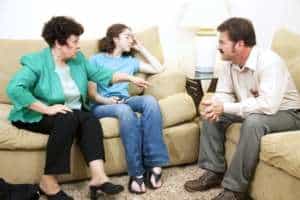 Visions Alumni Program
The Fourth Dimension, is open to graduates of teen outpatient counseling. Aftercare groups are offered on an on-going basis with attendance of up to two aftercare groups weekly. Individual sessions are available on a fee for service basis. Visions' Alumni Coordinator makes support calls for crisis intervention and relapse prevention. The child will never feel alone.
Visions Outpatient works out of network with insurance. We will provide the following services to our Outpatient families: Benefit Verification, Pre-Authorization, Utilization Review, Billing & Collections.
Visions Residential is a private pay program and full payment is required from the family. Our team will assist with insurance benefit verification & utilization review.
Don't suffer through the issues alone. Visions Adolescent Treatment Centers are here to help. Sign up now for drug and alcohol teen outpatient counseling and save a child.
Please click below to schedule your consultation or call us at 866-889-3665.